"The class I attended with my sister, brother, daughter and niece was a highlight of my Rangeley week. We all loved it! Everyone had very specific positive comments about how they felt afterwards.
My brother felt taller and… stood up straighter in his 6'5" frame! My sister's troublesome hip and ankle were greatly relieved of discomfort. My niece said she was breathing easier. My daughter reported feeling 'more alive!' I appreciated feeling more connected with my authentic self, always a challenge in the midst of family time.
We all enjoyed your humor and how relatable you made the practice to such a wide range of students. You make it look easy! THANK YOU!"
                                 Kim Chandler, Director, Innerlight Yoga, Newport, RI
"I started taking Karen's yoga classes regularly when I started chemotherapy for breast cancer. I continued going twice a week thoughout my chemotherapy and during the many weeks  of radiation therapy……Karen's classes have become a wonderful spiritual and physical practice that I am continuing to enjoy now that my treatment is over….I always feel invigorated and happy when I leave. "
Amy E. Kahn, Psy.D, Amherst, MA
"Yoga?!  Are you kidding?  I'm 70 years old and retiring.  You seriously think there's a rosy future for these sedentary old muscles? Well, that was two years and it seems like a lifetime ago.  How did I make it to 70 without yoga and without Karen?"
                                                                                   Gail Perlman, Northampton, MA
"Karen is an extraordinary teacher and her alignment-based style of teaching has had profound benefits for me…last summer I was able to raise my arm straight up for the first time in 12 years. Later I realized I was clapping joyfully at a concert…"
Farnsworth Lobenstine, Amherst, MA
November's here and daylight time has ended. Early morning colors warm us as days get shorter and cooler.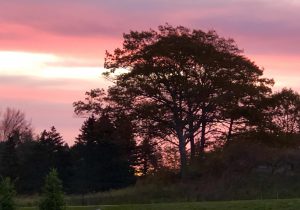 Take in the vibrant sunrise, say goodbye to what is leaving, notice how the crisp days keep you moving. And, of course, notice in how many ways yoga moves you.
Very best wishes for a happy and thankful Thanksgiving.
Yoga for Healthy Aging in Scarborough, Maine. Check out the details.
Gentle Yoga virtually from my home. Details here.
Come join me on the mat. My schedule's here, and I am always happy to schedule private sessions in person or virtually.  Yoga classes and private sessions make great holiday gifts. I look forward to being in touch.